CD1/MD1: Wire Rope Electric Hoist is a kind of light duty lifting equipment with advantages of tight structure, light dead weight, small volume, wide common use and convenient operation etc.
CD1 MD1: wire rope electric hoists can be widely used to lift heavy objects, or installed on the straight or curve I-section steel beam of single beam cranes. They can also be used together with Electric Hoist Double beam gantry cranes and jib cranes. All the above has made the electric hoists common in industrial and mining enterprises, railway, wharfs and warehouses etc.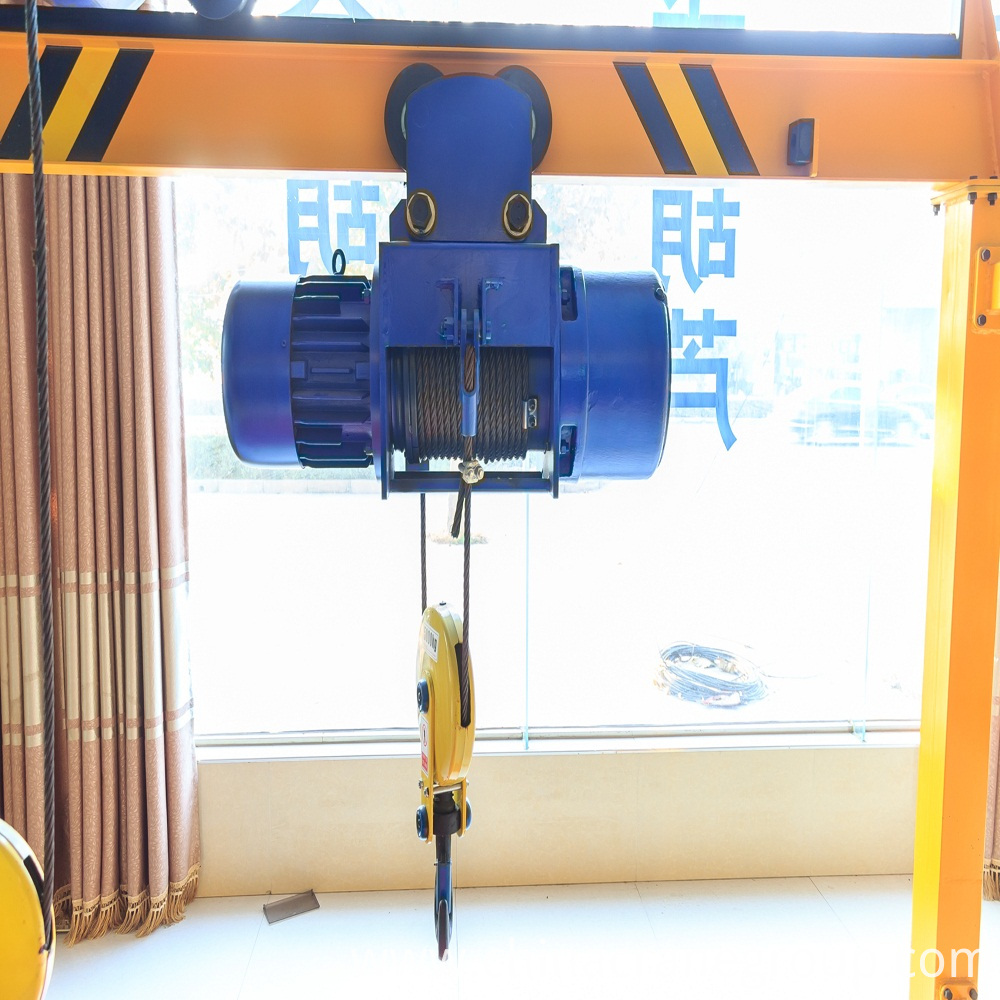 Introduction a small-sized lifting equipment, which can be mounted on Overhead Crane, Gantry Crane and Jib Crane as lifting mechanism.
Application widely used in various fields of materials handling, such as Machinery Manufacturing, iron and steel metallurgy, mine mining, water conservancy and hydropower, road and rail, port logistics, shipbuilding and so on.
Single Speed or Double Speed Model CD1 electric hoist has only normal speed, which can s Widely used Steel Wire Rope gear Trolleys hoists atisfy normal application.
Model MD1 electric hoist provides two speeds: normal speed and low speed.
Difference The lifting speed of CD1 type is general speed, it can satisfy the requirements of general use; the lifting speed of MD1 type has two lifting speed: general speed and slow speed. When worked in slow speed, it can satisfy the requirement of precision loading and unloading, examine and repair machine tool etc precision work
Safty
1. Brake and clutch ensure the safety under any circumstance,no slip under load
2. IP55 of hoist frame and brake ensures the optimal corrosion resistance under harsh environment.
3. Up and down Limit Switch ensures the safe operation of the hook on the top and bottom position.
4. Low voltage contactor ensures the safe and reliable operation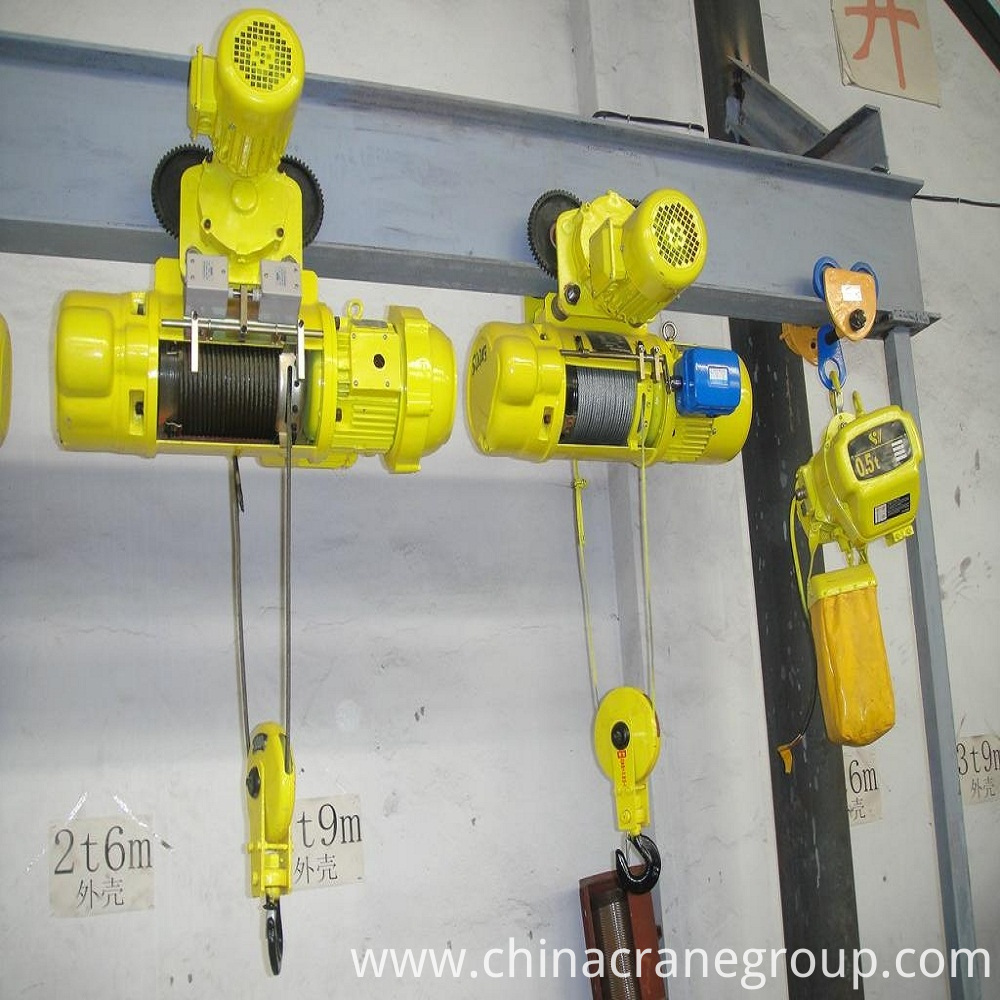 Model CD1 MD1
Capacity Tons 0.25 0.5 1 2 3 5 10 16
Hoisting height M 3,6,9 6,9,12 6,9,12,18,24,30 9,12,18,24,30
Hoisting speed M/MIN 8(0.8/8) 8(0.8/8) 8(0.8/8) 7(0.7/7) 3.5 (0.35/3.5)
Travel speed M/MIN 20 20/30 20/30 20/30 20/30 20/30 20/30 18
Wirerope Dia.(mm) 3.6 4.8 7.4 11 13 15 15 17.5
Spec. 6x39 6x37+FC 6x37+FC 6x37+FC 6x37+FC
Hoisting motor Type ZD112-4 ZD121-4 ZD122-4 ZD131-4 ZD132-4 ZD141-4 ZD151-4 ZD151-4
ZDS1
0.2/0.8 ZDS1
0.2/1.5 ZDS1
0.4/3.0 ZDS1 0.4/4.5 ZDS1
0.8/7.5 ZDS1
1.5/13 ZDS1 1.5/13
Power (KW) 0.4 0.8
(0.2/0.8) 1.5
(0.2/1.5) 3.0
(0.4/3.0) 4.5
(0.4/4.5) 7.5
(0.8/7.5) 13(1.5/13) 13(1.5/13)
speed (r/min) 1380 1380 1380 1380 1380 1400 1400 1400
Current (A) 1.25 2.2
(0.72/2.4) 4.3(0.72/4.3) 7.6(1.25/7.6) 11
(2.4/11) 18
(2.4/18) 30(5.2/30) 30(5.2/30)
Travel motor Type ZDY110-4 ZDY111-4 ZDY111-4 ZDY112-4 ZDY112-4 ZDY121-4 ZDY121-4 ZDY121-4
Power (KW) 0.06 0.2 0.2 0.4 0.4 0.8 0.8x2 0.8x2
speed (r/min) 1400 1380 1380 1380 1380 1380 1380 1380
Current (A) 0.3 0.72 0.72 1.25 1.25 2.4 2.4 2.4
Power AC 380V,50HZ,3P (By your demand)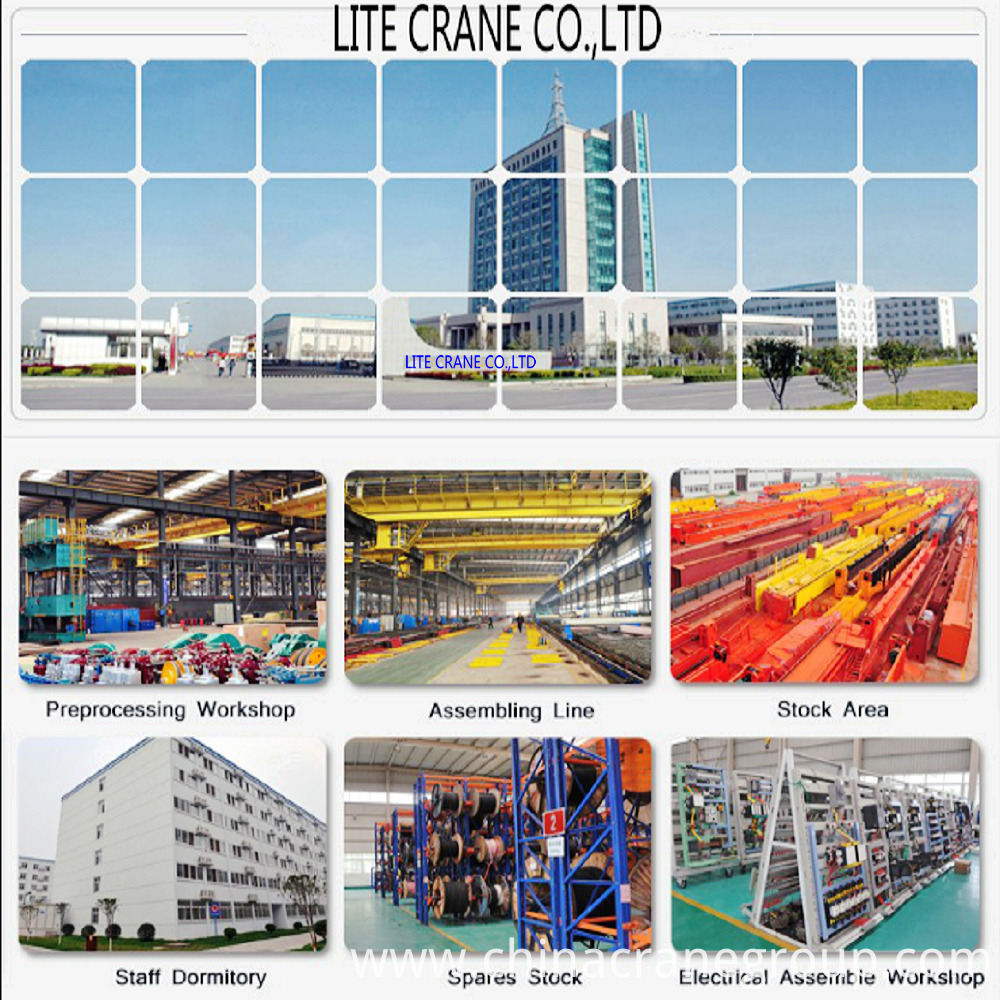 Our History:
LITE Crane Co., LTD has focused on top quality Crane Parts for over 14 years in China. We started as a small operation, but now have become one of the leading suppliers in the crane industry in China.
Today, LITE Crane Co., LTD has been one of the top producers of quality crane and crane parts, such as: electric hoist, single, double girder bridge, gantry, grab, casting, explosion-proof crane series and accessories.

Our Products includes the following:

1, Crane accessories
2, Electric hoist
3, Single - beam cranes
4, Double - beam cranes
5, Bridge Crane
6, Gantry crane
7.Lifting equipment and accessories
We supply crane products all over the globe to a wide range of companies worldwide.


Product Application:
The products are widely used in the following industry, such as power plants, nuclear power, water conservancy, tunnels, bridges, petrochemical, metallurgy, construction, open-air warehouse, wharf, workshop ...

Our Certificate:
Our company is a member of China Crane Association and vice chairman company of China Heavy Machinery Association. It owns the production licenses of electric hoist, single & double-girder crane, the safety of the approval certificate of manufacturing, installation and maintenance, the safety approval certificate of the manufacturing of 320T bridge crane, portal crane and 280Tcasting crane.
The company has passed the quality system certification of GB/T19001 -2008/IS09001:2008, the environmental management system certification of GB/T24001-2004/ISO14001:2004 and the occupational health and safety management system certification GB/T28001-2001.

Looking for ideal Electric Hoist For Crane Manufacturer & supplier ? We have a wide selection at great prices to help you get creative. All the
Electric Wire Rope Hoist
are quality guaranteed. We are China Origin Factory of Building Wire Rope Hoist . If you have any question, please feel free to contact us.
Product Categories : Electric Powered Hoists > Electric Wire Rope Hoist