1.5ton rachet Lever block Hoist
Our Products includes the following:
1, Crane accessories
2, Electric Hoist
3, Single - beam cranes
4, Double - beam cranes
5, Bridge Crane
6, Gantry Crane
7.Lifting equipment and accessories
We supply crane products all over the globe to a wide range of companies worldwide.
Product Description
1:suspension and load hooks are made of antiading alloy steel,high strength ,deformation occurs when the cse will be first event of overload without sudden fracture.
2.all spart use high quality material make.and plan coating ,can good be anticorrosive
3.strong the steel cover and plate good to protect inside spart structure
4.roller and gear structure all have cover to good protect,can use in every where.
5.load wheel use good material and producten precision,good for use load chain accuracy.
6.hook with safety latch securely can roate freely 360degrees .ergonomic handle design engineering so that the hoist is easy to operate.
7:closed design protects the internal components from contamination
8.all parts of the load disc brakes come on by the high quality steel and anti corrosion.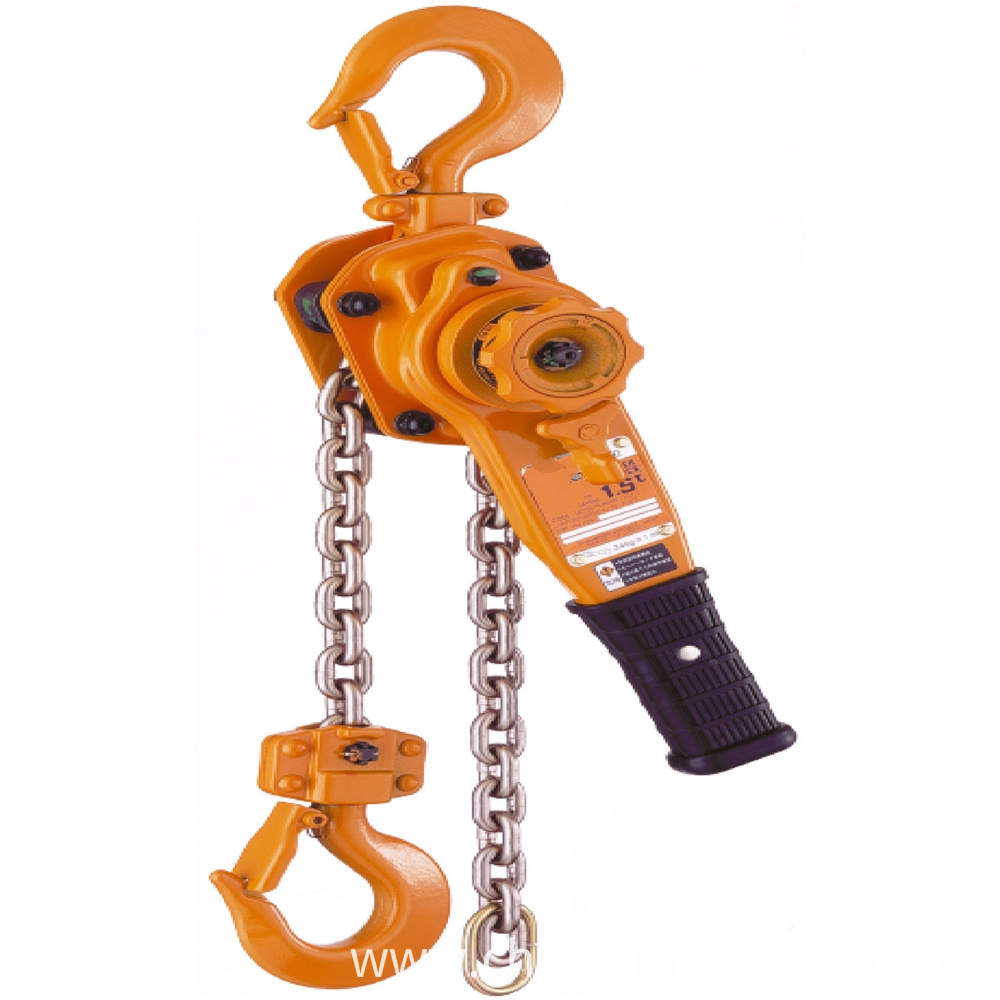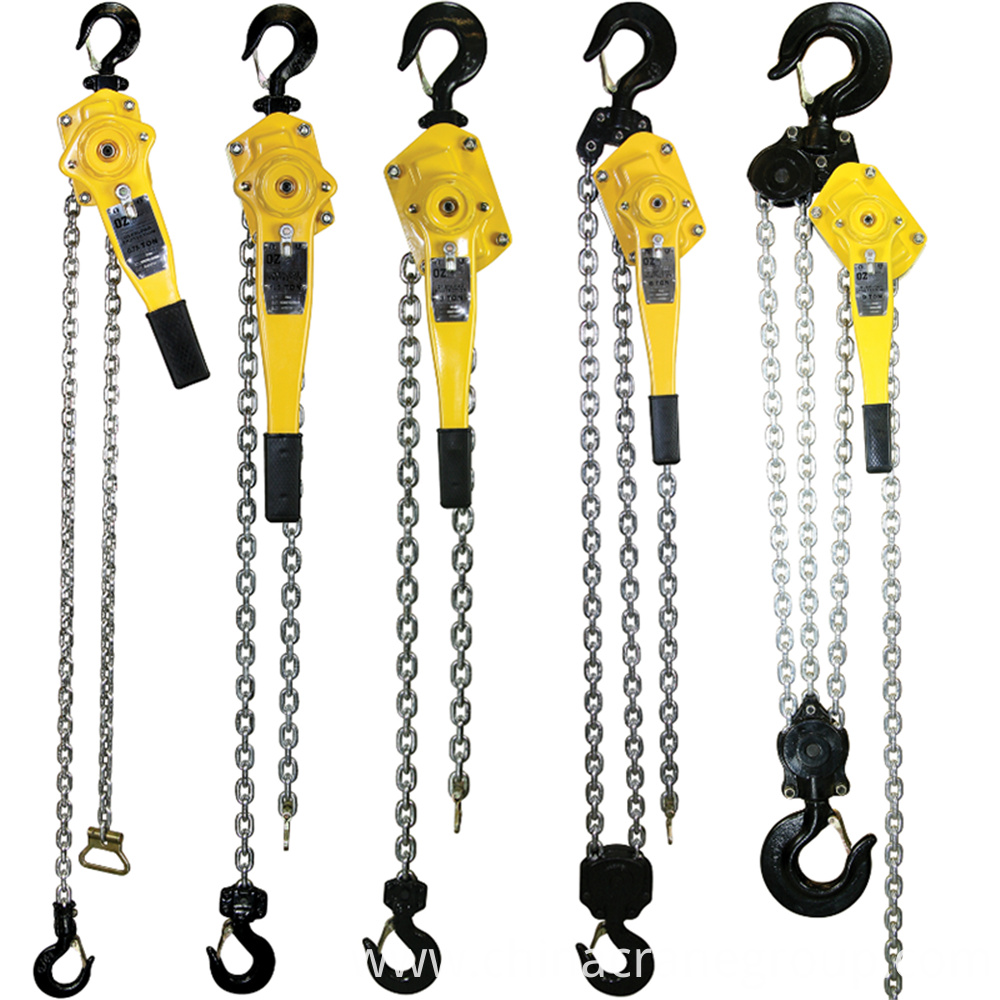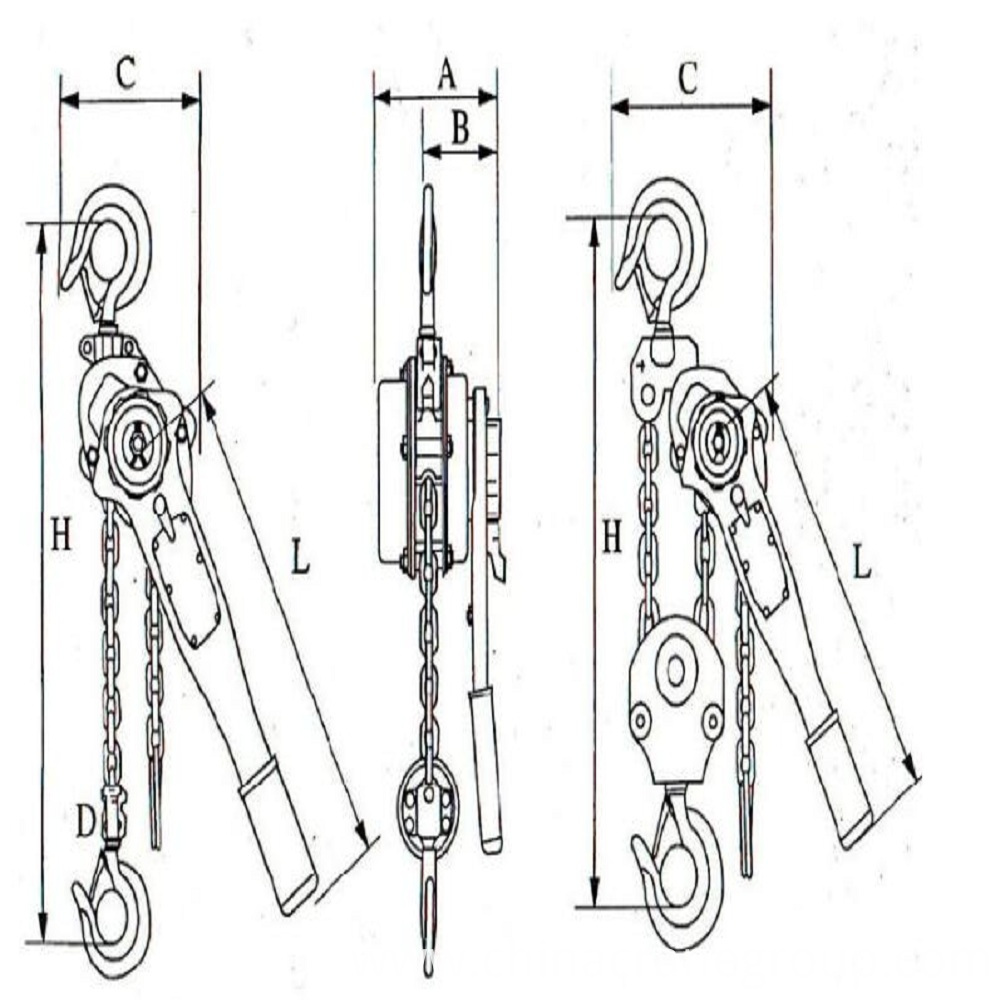 Model HSH DH0075 DH008 DH010 DH015 DH016 DH030 DH032 DH060 HSH-DC090
Capacity (kg) 750kg 800kg 1000kg 1500kg 1600kg 3000kg 3200kg 6000kg 9000kg
Standaed lift (m) 1.5 1.5 1.5 1.5 1.5 1.5 0.5 1.5 1.5
Load chain Number of falls 1 1 1 1 1 1 2 3
Effort required to lift max load (n) 220 220 220 240 240 330 330 360 380
Running testload (kg) 1125 1200 1500 250 2250 4500 4500 9000 13500
Load chain diameter×Number of falls (mm) 5.6*16.7 6*18 6.18 7.1*21.2 7.1*21.2 9*27 9*27 9*27 9*27
Net weight (kg) 5.3 5.6 5.6 8.6 8.6 15.2 15.2 23 43
G.W (kg/m) 5.6 5.9 5.9 8.9 8.9 15.6 15.6 23.5 44.5
PACKING SIZE (cm) 31.5*16*12 31.5*16*12 31.5*16.12 35*18*13 35*18*13 48*12*13.5 48*20*13.5 48*21.5*17 53*28*25
ADD 1M WEIGHT (kg) 0.7 0.77 0.77 1.1 1.1 1.8 1.8 3.6 5.4
Dimensions(mm) a 115 15 115 137 137 169 169 238 300
b 35 35 35 42 42 48 48 60 70
c 239 239 239 259 259 374 374 374 374
d 35 35 35 38 38 46 46 59 54
e 146 146 146 162 162 187 187 187 187
f 91 91 91 67 67 98 98 98 98
Hmin 320 320 320 360 360 431 431 500 635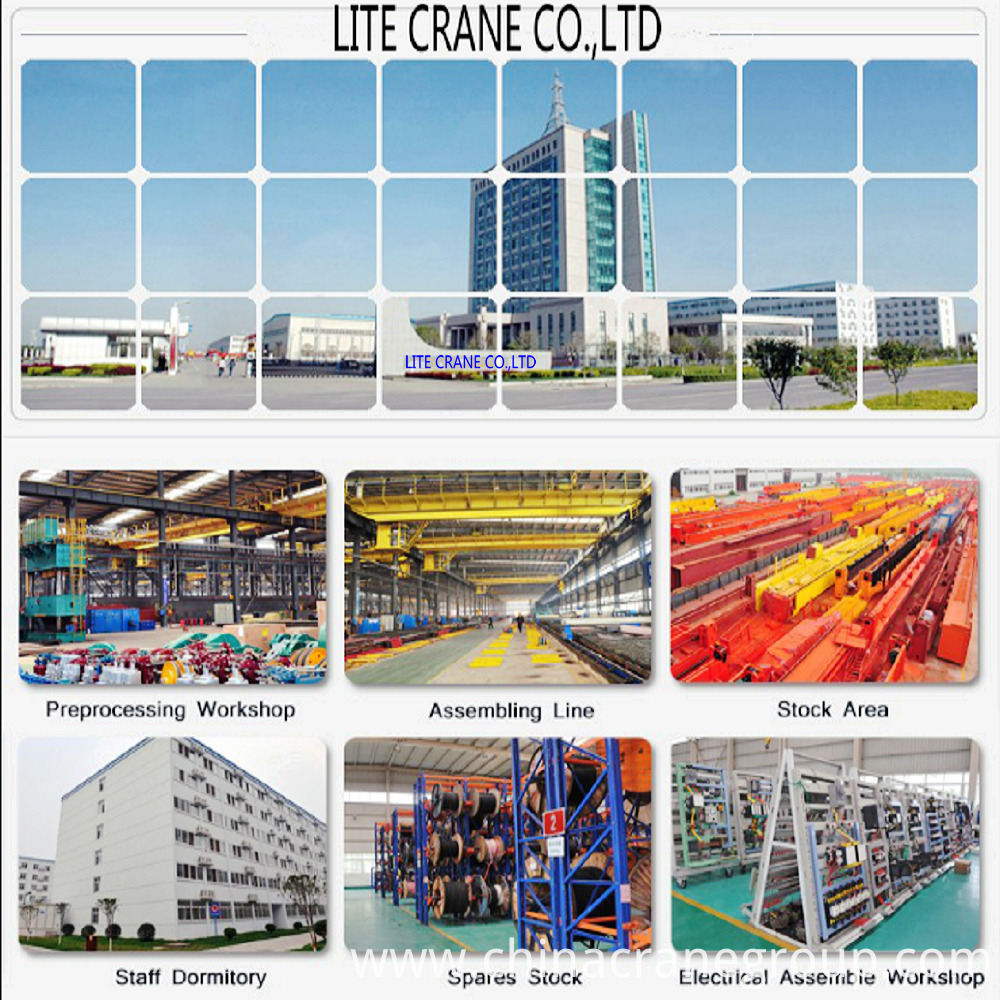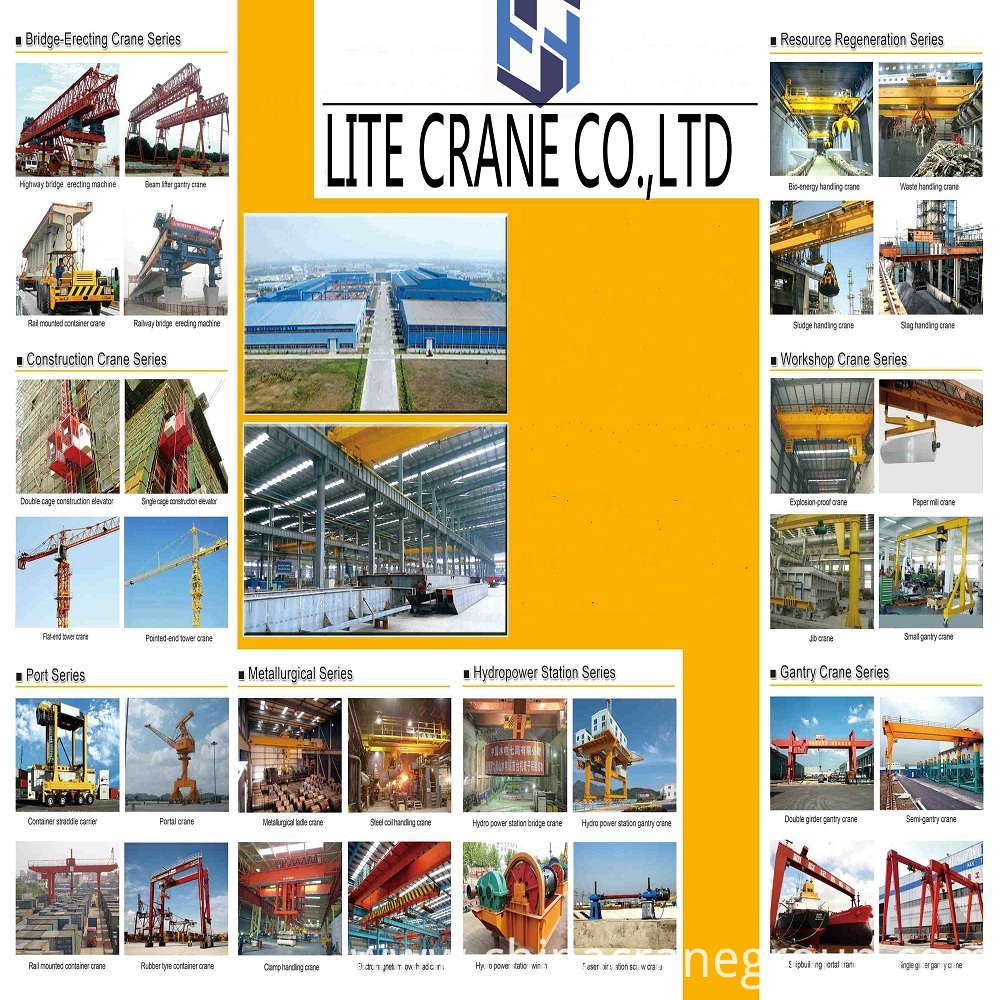 1. Our History:
LITE Crane Co., LTD has focused on top quality Crane Parts for over 14 years in China. We started as a small operation, but now have become one of the leading suppliers in the crane industry in China.
Today, LITE Crane Co., LTD has been one of the top producers of quality crane and crane parts, such as: electric hoist, single, double girder bridge, gantry, grab, casting, explosion-proof crane series and accessories.
2. Our Factory:
LITE Crane Co., LTD is located in Xinxiang, Henan Province China. The company covers an area of 680 thousand square meters and owns more than 2700 employees. The annual sales of LITE Crane Co., LTD is 1.6 billion USD, there are more than 600 sales agencies at home and abroad and more than 180 middle& senior engineering and technical personnel who are in charge of design and development of all products and also own the development center of their new technology and products.
3.Our Product:
Our Products includes the following:
1, Crane accessories
2, Electric hoist
3, Single - beam cranes
4, Double - beam cranes
5, Bridge crane
6, Gantry crane
7.Lifting equipment and accessories
We supply crane products all over the globe to a wide range of companies worldwide.
4.Product Application:
The products are widely used in the following industry, such as power plants, nuclear power, water conservancy, tunnels, bridges, petrochemical, metallurgy, construction, open-air warehouse, wharf, workshop ...
5.Our Certificate:
Our company is a member of China Crane Association and vice chairman company of China Heavy Machinery Association. It owns the production licenses of electric hoist, single & double-girder crane, the safety of the approval certificate of manufacturing, installation and maintenance, the safety approval certificate of the manufacturing of 320T bridge crane, portal crane and 280Tcasting crane.
The company has passed the quality system certification of GB/T19001 -2008/IS09001:2008, the environmental management system certification of GB/T24001-2004/ISO14001:2004 and the occupational health and safety management system certification GB/T28001-2001.
6.Production Equipment:
There are 1600 units of all kinds of processing equipment which can independently accomplish all the processes such as milling, digging, grinding, pulling, boring, rolling, drilling, punching, cutting, bending, welding, testing and heat treatment.
7.Production Market:
Our products are sold to more than 30 provinces, municipalities and autonomous regions in China, and also exported to Australia, Vietnam, India, Thailand and some Southeast Asian countries. The annual sales of double-girder and portal cranes is more than 3600 units, more than 23000 units single-girder cranes, about 23000 units single-girder & double-girder electric hoist and accessories. The production and sales of the single-girder cranes has lead the nation for seven consecutive years and the per capita output and economic benefits are among the best in the same industry.
8.Our service:
Besides our existing molded products, LITECrane Co., LTD also can produce products according to the drawings or samples from our customers. We control the product quality critically for every step during the manufacturing from custom.
Looking for ideal 1.5ton
Lever Hoist
Manufacturer & supplier ? We have a wide selection at great prices to help you get creative. All the Rachet Chain Lever Hoist are quality guaranteed. We are China Origin Factory of Lever Block Hoist. If you have any question, please feel free to contact us.
Product Categories : Manual Hoists > Lever Hoists